Regulations, Standards & Certification
At IOAC Optical, the health and safety of our clients is our utmost concern. We are committed to delivering the finest Prescription Safety Eyewear, ensuring the highest standards are met.
Eyes on the Job
IOAC Optical supplies to the Mining, Building & Construction, Manufacturing, Oil & Gas, Agriculture & Forestry, Aviation & Aerospace, Protection & Security, Food Production & Packaging, Transport, Logistics & Warehousing, Utilities and Pharmaceutical & Health industries.
A non-complying industry or company can be penalised with up to $30 000 as per the Australian Work Health and Safety Regulations of 2011. In the instance of death or a serious injury of an individual it can be $300 000 - $600 000 or 5-years imprisonment, or BOTH.
An Eye on the Future
IOAC Optical is licenced to manufacture Certified Prescription Safety Eyewear under SAI Standards Mark Licence SMKH21962. Our frames and lenses are made to adhere to the Australian Safety Standards AS/NZS 1337 Personal Eye Protection and SAI Global standards of practice. We design and test all of our frames with one objective: to provide our customers with superior products and services, so that together we can continue to improve the lives of millions of employees Australia wide.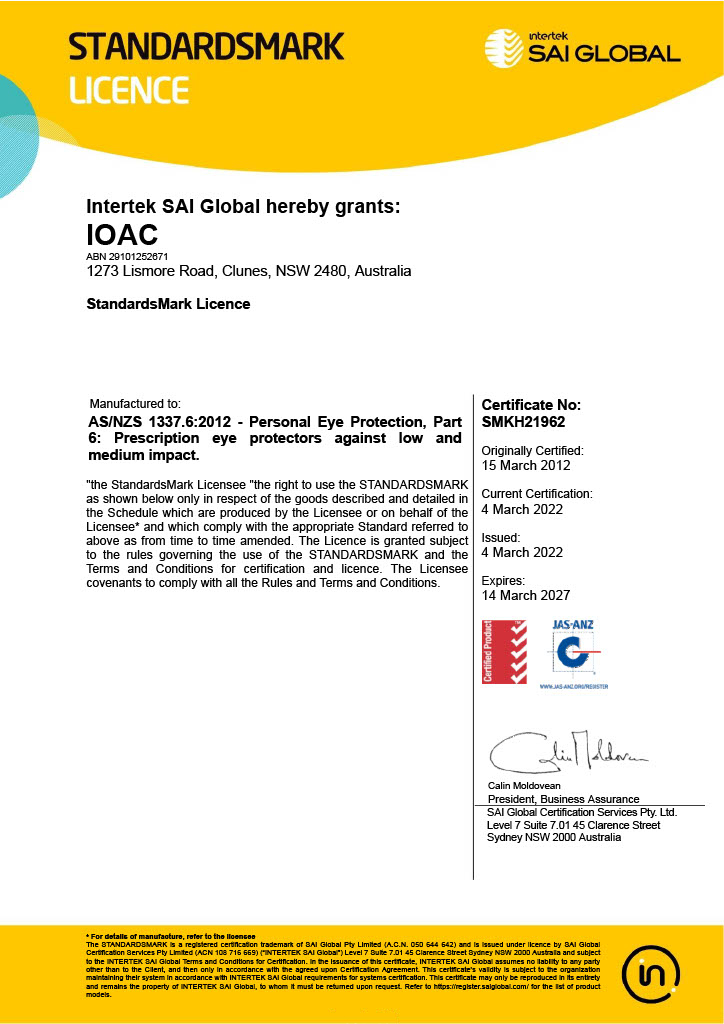 Each of our frames and lenses are ballistic tested, withstanding the impact of a 6.5mm steel ball at a velocity of 45 metres per second, to guarantee 100% protection of your eyes, ensuring low to extra high impact types of resistance, thermal stability, penetration resistance, corrosion resistance, high temperatures, gastight, splash and dustproof, protection against molten metals and hot solids.